Coaches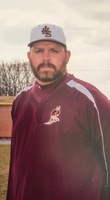 Dave Dinges
Assistant Coach
Phone:
215-459-4008
E-mail:
Coach Dinges brings a wealth of knowledge and over 28 years of coaching experience to the Cannons. Currently Coach Dinges serves as the Head Junior Varsity Coach at Jefferson High School in Shenandoah Junction, WV. Coach Dinges has served in that capacity since 2013 amassing over 150+ Wins, including Seven 20-Win Seasons.
In 2011, Coach Dinges founded the West Virginia Wild Baseball Club--A Travel Organization in the Eastern Panhandle and the DMV area. Dinges' Wild teams were successful over the years, including Two USSSA World Series Championships in 2013 and 2014.
After graduating from Middletown High School in Middletown, MD--Coach Dinges played two years of semi-pro ball in Brunswick, MD.
Dave, wife--Shannon, and their seven children reside in Kearneysville, WV.