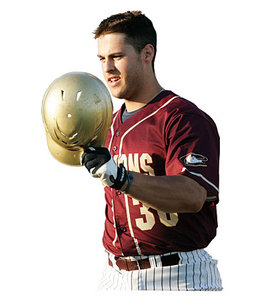 Andrew Yacyk has always been surrounded by success on the baseball diamond, and this summer is no exception.
An impressive display of raw power during the Home Run Derby prior to the Valley Baseball League All-Star Game earlier this month was just the latest in a string of prestigious accomplishments for the 19-year-old Hagerstown, Md., native who has been a mainstay in the outfield this summer for the Charles Town Cannons.
Though he didn't win the Home Run Derby, his third-place finish following a succession of towering long balls over the outfield fence at James Madison University was becoming of a young player whose resume already impresses.
When he was barely 13, Yacyk helped lead Hagerstown Federal to the Little League World Series in Williamsport, Pa., as a pitcher and first baseman, where the Mid-Atlantic regional champions won two-of-three games but were ousted from pool play on a run differential tiebreaker.
As a junior at North Hagerstown, Yacyk set a Maryland single-season high school record with 53 runs batted in and was selected by professional scouts to participate in the East Coast Professional Showcase in Syracuse, N.Y., in August 2012.
The following year, he again batted over .400 while playing first base and earning the second of two selections to play national travel ball in Oklahoma for Team Maryland. He also played that summer in a high school senior all-star showcase game at Camden Yards in Baltimore.
"I never would have thought I would be able to do all of these things," Yacyk said. "Hopefully I can keep it going."
Despite such precociousness, Yacyk said he received only limited offers to play Division I college baseball, namely interest from Liberty University in Lynchburg, Va., and the U.S. Military Academy at West Point.
Yacyk visited West Point, but never formally applied. After potential consideration from larger Division I programs – including the University of Maryland – waned, Yacyk opted to visit Liberty, the first Division I program to show interest in the 6-3, 215-pounder.
After all, Yacyk had known of the school, as his cousin and also a neighbor had both played football at Liberty.
"A lot of people thought I could have gone anywhere I wanted," Yacyk said. "But I didn't have many offers. Some things started falling through with some of the bigger schools I was talking to. But I remembered Liberty had shown interest and was the first to contact me. I really enjoyed my time down there. I went down on a Saturday and I committed the following Monday. It was quick."
As was the case with Yacyk's previous teams, Liberty was experiencing success last summer with the first of what would be consecutive berths in NCAA regional tournament following another trip this spring.
But as is typical with true freshman in talented programs, Yacyk was disappointed early on after he hadn't worked his way into the lineup quickly with any regularity.
"At first I wasn't playing, but then I got a start at first base," he said. "I had a pretty good game, too. I got some time in right field and was playing pretty well for a while in the first half of the season. Then I got into a bit of a slump and was taken out of the lineup.
"Then I worked my way back in as a pinch hitter and (designated hitter)," he continued. "At the end, I was playing left field. I was kind of all over the place trying to do something that would allow me to get somewhere in the lineup."
The Flames finished the season 41-18 and earned a berth in the NCAA regional tournament bracket in nearby Charlottesville, Va. But Liberty dropped back-to-back games against Arkansas and Bucknell and was ousted.
Yacyk started both games in the tournament and doubled against Arkansas during a 3-2 opening loss. Liberty was defeated 5-2 the following day.
"That was really awesome as a freshman playing in a regional," he said. "Playing in Charlottesville. We had gone down there earlier in the year to play UVA. It's kind of cool because I'm straight out of high school playing Clear Spring (Md.) and Smithsburg (Md.) and these high schools we play in Hagerstown going to play the University of Virginia. The No. 1 team in the nation. Being in a regional on ESPN against Arkansas."
In all, Yacyk batted .241 and started 26 games this season at Liberty.
"When I was younger I had a lot of success and then when I went to college I didn't have as much success as I wanted to," he said. "I'm a perfectionist. I always want to go 4-for-4. I know that's not going to happen. But I've been very fortunate with the chances that have been given to me. I've been surrounded by a great group of people my whole life."
Both of Yacyk's parents are doctors and he initially was going to study biology in college, but has switched his major to exercise science. He will begin his sophomore year this fall.
The Cannons are well represented this season by players from Liberty, including first baseman Austin Bream, who is the son of former major leaguer Sid Bream.
A year ago, Liberty pitcher Adam Parks threw a perfect game for Charles Town during the franchise's inaugural season in the Valley Baseball League. Parks was selected last month in the 33rd round of the Major League Baseball draft by the Texas Rangers, and opted not to return to pitch this season for the Cannons.
Yacyk said Parks was instrumental in his joining the Cannons this summer.
"I knew the Valley League was one of the better leagues in the country and I knew Charles Town was close to home," Yacyk said. "It just happened to work out."
Despite his parents living a short distance away in Hagerstown, Yacyk is staying this summer with host family Daniela and Jason Jalbert.
Yacyk returns home each week for a doctor's appointment to get allergy shots, while also using an occasional off day to have dinner with his parents at home.
"I'm allergic to everything you can think of," he said. "Except cats and dogs. I've been getting shots for probably four years."
Yacyk was batting .250 as of press time Tuesday and leading the Cannons with four home runs and eight doubles. His 18 runs batted in rank second on the team.
"I was a little disappointed I didn't get into the All-Star Game, but it was a good experience being in the Home Run Derby," he said. "I would never have thought a year ago in high school that a year from now I'd be in the Valley League Home Run Derby. I work hard at hitting … so it's nice to see it as a result of some of the things I've been doing to try to get better."
Cannons president and team manager Brett Fuller describes Yacyk as a pleasant addition to the team, both on the field and in the clubhouse.
"The kid's got phenomenal strength," Fuller said. "He's a free swinger. I'd like him to be a little more patient at the plate and he'd have even more success than he has. But he's a numbers guy. He's going to hit the long ball and he's going to drive in a lot of runs. He's not a guy who's going to hit for a high average and he's going to strike out some. But that's what you get when you have a guy who can change a game with one swing of the bat."