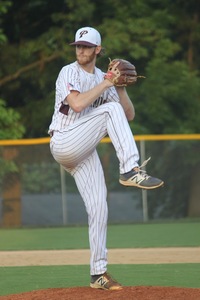 PURCELLVILLE, VIRGINIA—Play ball! It feels like it's been forever since the Cannons last took the field to play a baseball game. After a rainout on Monday and an off day on Tuesday, the Cannons were looking to get back in the win column after losing on Sunday and there's no better way to do that than having a game at home.
The Cannons sent left hander Andy Crum to start and he pitched an absolute gem. On the flip side, Dylan Verdonk pitched very well for the Winchester Royals. Heading in to this game, Crum had two starts, going a combied 10.1 innings pitched. He is one of the starters for the Cannons that has shown the ability to go deep into games. This game would be no different, as he was perfect through two. This game was a good ol' fashion pitchers' duel. Crum and Verdonk both took shutouts in to the fifth inning. Verdonk wouldn't go as far in to the game as Crum did. Verdonk's day finished at 4 innings, 3 hits, 0 runs, 1 walk, and 4 strikeouts.
Both teams struggled to get a run for the first half of the game. The bats of the Cannons finally woke up in the sixth. First baseman Trevin Esquerra led of with a solid line drive that found green grass to give Esquerra a leadoff single. Hard swinging Ray Hernandez then came to the plate, and he delivered a huge dagger to the Royals with a long two-run homerun to the right-center power alley in Fireman's Field. Sheldon Reed then came up and the Cannons almost went back-to-back, but his ball ran out of gas at the warning track of left-center. Trey McDyre singled and then advanced on a throwing error by Royals catcher, Matt Allen. Payton Marshall would draw a walk, and the Cannons would threaten with two runners on and two outs. However, Royals reliever Jaret LaCagnina came in with two outs in the sixth and was able to work out of trouble getting Cannons catcher Brenton Sanders to ground into a fielder's choice.
Andy Crum came out to pitch the seventh, which is the longest outing a Cannon starting pitcher has had this season, and worked another great inning. After a leadoff walk, Crum induced a 1-4-3 double play and then induced another groundout to third baseman Ray Hernandez. Jaret LaCagnina continued his good relief appearance by retiring the Cannons in order in the seventh.
Tom Sutera entered the game for Andy Crum in the eighth and looked to keep the shutout going. Andy Crum's final line was 7 innings pitched, 2 hits, 0 runs allowed, 3 walks, and 1 strikeout. Sutera continued his dominant summer, striking out the first Royal he faced in Damian Rodriguez. He then got Seth Woodard to popout to Nolan Ritchie and Alejandro Gonzalez to groundout to Nolan Ritchie. Nolan Ritchie had a busy day on defense, fielding 9 groundballs and catching a pop-up.
The bottom of the eighth was catastrophic for the Winchester Royals. Trevin Esquerra led off the Cannon eighth with a triple that really fired up everyone. Ray Hernandez singled and Esquerra scored easily. Sheldon Reed then reached on a fielder's choice, but Ray Hernandez would be forced out at second. With one out and a man on first, Trey McDyre singled to put runners on first and second for Payton Marshall. Marshall went with the pitch and poked a solid single to left field scoring Reed from second. Royals left fielder Dillon Reed misplayed the ball and it got by him, allowing McDyre to score from first and Marshall would make it to third. Brenton Sanders hit a sac fly, that would score Marshall from third. Nolan Ritchie would also single but LaCagnina would bounce back to get Andrew Zban out. The score after 8 innings would be Cannons 6, Royals 0.
Then in the top half of the ninth, manager Brett Fuller decided to put in lockdown closer Dalton Whitaker to finish up the game. He didn't disappoint, striking out the leadoff man. A one-out single then followed, but Whitaker managed to bounce back inducing the 9th groundball to Nolan Ritchie and striking out Matt Allen to end the game and put the Cannons in the win column for 9th time this season.
The Cannons are now 9-5 and in first place in the North division. They are on the road tomorrow at Front Royal but return home to Purcellville on Friday to take on Strasburg at 7 PM.